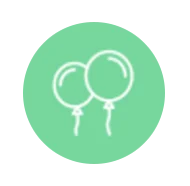 Kids Soccer Birthday Parties
Hip-Hip-Hooraayyyyy! Are you ready for a 1-hour action packed soccer birthday party?!
A kids soccer birthday party is the ultimate present for your little soccer star. Let us make your childrens' special day perfect while you sit back and enjoy the glow in their eyes! 
Our children's soccer birthday parties are available Australia-wide – from Sydney across Adelaide, Canberra, Melbourne and Brisbane all the way to Perth – and are hugely popular with our soccer kids. Best of all, we take the hassle and organisation out of your hands so you can focus on your child and your birthday guests or simply join in the fun! Celebrate your child's special day with a soccer-themed kids' birthday party for a fun and action-packed experience that will be enjoyed by children and parents alike.
For more information or to book, contact us on 1300 781 735 or info@soccajoeys.com