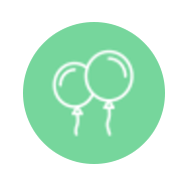 Kids Soccer Birthday Parties
Get ready for a 1-hour action packed soccer birthday party!
Is your child soccer-crazy? Give them an unforgettable present with our kids soccer birthday parties! 
Every birthday party needs fun kids' activities. Celebrate your child's special day with a soccer-themed kids' birthday party for a fun and action-packed experience that will be enjoyed by children and parents alike.
For more information or to book, contact us on 1300 781 735 or info@soccajoeys.com